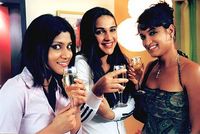 Last night my friends and I decided to catch the movie 'Page 3', the much talked about film about life of the glitterati of Mumbai. Pretty well made film, I dare say. More than the plot, what appealed to me was the interweaving of characters and the realistic depiction of celebrity life... all through a Page 3 journalist's perspective. Yes, naturally I could relate this to N, an ex-Page 3 journalist. Overall, good movie. Watch it.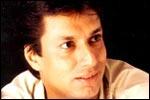 What followed after the movie is the more interesting part. Manish insisted on driving through the town and before I knew it, we landed up in Juhu. I just happened to suggest dropping in at JW Marriott, I had to check it out before I left the city. No sooner did we land there than we realised - we were in the midst of uncountable Page 3 folks! It was close to 2 o'clock in the night but this place was totally happening, abuzz with folks from tinsel town. Sitting right next to us was Gaurang Doshi.
We spotted some television artists, I didn't know any. There was a gorgeous looking Mahek Chehel and a blonde-avatar Shefali Zariwala. Suddenly while I was busy munching into my pasta, Kapil almost jumped up asking me to check out the person standing next to me - Madhur Bhandarkar, Director of the movie Page 3! The world does indeed come full circle!